IAFF Headlines
Current news directly from IAFF locals, councils, and state/province associations in the US and Canada.
Binding Arbitration update
05/04/15 - IAFF local 1605
A Binding Arbitration update has been posted in the link for Binding Arbitration above.
Remembering Gadsden FF Klossner
05/04/15 - Professional Fire Fighters Of Alabama
There will be an informal gathering to celebrate and remember Gadsden Firefighter Logan Klossner this Wednesday, May 6th. It will be held at Gadsden Fire Station #2 at noon. The station is located at 5121 Airport Rd. Gadsden.
Brother Gil Pohl
05/04/15 - Albuquerque Area Fire Fighters
Judge Orders City of new orleans to pay Pension Fund
05/04/15 - IAFF 14th District
Judge orders Mayor Landrieu to pay firefighters' pension Robert McClendon, NOLA.com | The Times-Picayune By Robert McClendon, NOLA.
IAFF Recognizes Local 4881's Road to First Contract
05/04/15 - West Metro FireFighters I.A.F.F. Local 1309
Colorado Local's Impressive Road to First Contract from IAFF in Action In just four years, the Wheat Ridge Fire Protection District (WRFPD) in Colorado went from an all-volunteer department, to hiring its first paid fire fighters, to being a unionized department with a collective bargaining agreement.
Group 4 Members execute water rescue
05/04/15 - IAFF Local 853
A 25-year-old Lowell man was rescued after falling into the Merrimack River near the Cox Bridge Monday morning, police said.
Boston Fire Department & Local 718 team up for Cancer awarness
05/04/15 - Boston Fire Fighters
http://www.bostonglobe.com/metro/2015/05/03/new-video-aims-show-toll-cancer-boston-fire-department/aJURyaLG1l2kraxy8fpYoK/story.
Group 3 handles cooking fire in Bishop Markham Highrise
05/04/15 - IAFF Local 853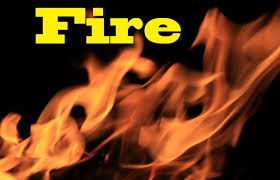 On Sunday May 3rd 2015 the Members from Group 3 responded to a report of a stove fire at the Bishop Markham Housing Complex. The units that responded were Engine 1, 2, 4, Ladder 2, Rescue Co #1 and Car 3. When units arrived the water gong was sounding and memebers made entry into the building and had water flowing down the interior stair from the second floor.
LA County Fire Museum
05/04/15 - IAFF Local 1014
LA County Fire Museum As we all know the Museum is a vital asset to our members, both current and retired.
Firefighters Salmon Slam
05/04/15 - Franklin Park Firefighters
CHaD Baseball Fire team tryouts
05/04/15 - Professional Fire Fighters of New Hampshire
All tryouts take place at Gill Stadium in Manchester. The schedule is: Team Fire (11am-1pm): Tuesday, May 5, Wednesday, May 13 & Monday, May 18. Players should register at www.CHaDBaseball.
Fire department faces cuts to satisfy budget woes
05/04/15 - Michigan Professional Fire Fighters Union
Fire service in Port Huron will change if $575,000 is eliminated from the department's budget.
Federal grant helps fire department update equipment
05/04/15 - Michigan Professional Fire Fighters Union
Garden City firefighters will breathe easier with the help of a grant from the U.S. Department of Homeland Security.
Brosnan honored as firefighter of year for 2nd time
05/04/15 - Michigan Professional Fire Fighters Union
This is his second time winning the award since he began working for the department in 1995. He retired this year and has taken a job with the Canton Township Fire Department.
Bob Vallero's Retirement Party
05/04/15 - Denver Firefighters Local 858
Please see that attached flyer for more information on Bob Vallero's Retirement Party.
IAFF Joins Groups Seeking Ban on Toxic Chemical Flame Retardants
05/03/15 - West Metro FireFighters I.A.F.F. Local 1309
A broad coalition of health, fire fighter, consumer and science groups - including the IAFF - has filed a petition asking the Consumer Product Safety Commission (CPSC) to ban four categories of consumer products - children's products, furniture, mattresses and the casings around electronics - if they contain any flame retardant in the chemical class known as organohalogens.
DFD 858 Summer Patio Series
05/03/15 - West Metro FireFighters I.A.F.F. Local 1309
DFD 858's first Summer Patio Series FAC will be held May 29th @ Mile High Spirits located @ 22nd and Lawrence.  This event will start around 5 pm and will showcase the fine musical talents of Brian (P-Diddy) Combs and Sir Ricky Jaramillo.  These are 2 of the Denver Fire Departments most truly blessed musical talents. This is a fundraiser to assist a Local 858 member.
Local 4116 CPFF Foundation Fundraiser
05/03/15 - West Metro FireFighters I.A.F.F. Local 1309
This years tapping of Bumper Time Ale is fast approaching and we couldn't be more excited to have our friends, Built To Last playing LIVE music for you all night! Come out and join us, May 29th at 5:00pm at Rockyard American Grill and Brewing Company for a great event to benefit the Colorado Professional Fire Fighters Foundation.
IAFF Backs Legislation to Repeal "Cadillac Tax"
05/03/15 - West Metro FireFighters I.A.F.F. Local 1309
The IAFF is throwing its full support behind legislation to repeal the excise tax on high-cost health plans, more commonly referred to as the "Cadillac Tax." Representative Joe Courtney (D-CT) has introduced a bill to repeal this provision that was added to the Affordable Care Act (ACA) at the last minute, with little debate or careful consideration.
"Right to work" 5/4/15
05/03/15 - IAFF Local 740
Burger Flipping Grill Masters!!
05/03/15 - IAFF Local 1805
Local 1805 Union Firefighters were out on Saturday, May 2nd to provide a little grill master action for the annual Salmon Creek Elementary school carnival.  Thank you to the Salmon Creek PTA for inviting us and allowing us to participate.
Recruits Graduated!!
05/03/15 - IAFF Local 1805
Congrats to our latest and greatest recruits as they graduated from their 12 week training academy at North Bend, WA.  The recruits are now on their 4 week day scheduled prior to going on shift.  Congrats Brothers and Sister!  Nice Job.
Legislation to Repeal the Cadillac Tax Introduced
05/02/15 - UPFFA
Legislation to Repeal the Cadillac Tax Introduced In front of the Capitol steps, Representative Joe Courtney (D-CT) on April 28 introduced H.R. 2050, the Middle Class Health Benefits Tax Repeal Act.
Eureka officials: Police, fire, parks face cuts
05/02/15 - IAFF local 3556
Eureka officials: Police, fire, parks face cuts Humboldt Bay Fire Capt. Patrick Beyer, left, and Engineer Trevor Morris chat next to Engine 8114 outside Station 4 on Myrtle Avenue near S Street on Thursday afternoon. Because of Eureka budget cuts, the station could soon be closed 250 days out of the year.
Join the IAFF Fitness Team for the 2015 Marine Corps Marathon
05/01/15 - Fargo Fire Fighters
Keep Informed: Missouri Legislative Reports
05/01/15 - Missouri State Council of Fire Fighters
Stay informed of the Bills that are being filed by the Legislature in Jefferson City, MO on a weekly basis.  This information is avaiable to all MEMBERS in the 2013 Legislative Reports area of the website.  If you are not currently registered with the website we strongly recommend that you do register so you may access this information.
7th District Benevolent Fund Scholarship Winners
05/01/15 - IAFF 7th District
The 2015 7th District Benevolent Fund Scholarship winners have been chosen. This year the committee stated it was very difficult. Forty-two applications were received and the talent was overwhelming. This year the applicants were to describe the ramifications that the SCOTUS decision "Citizens United" would have on America. Attached is the top essay received. $750 scholarships are awarded to: Cora Bush, daughter of Ken Bush, Local 29-Spokane. Jake Jarrett, son of Jay Jarrett, Local 8-Great Falls. Emma Gieseke, daughter of Rich Gieseke, Local 2829-Redmond. Jacob Dailey, son of Shawn Dailey, Local 1747-Kent RFA. Kaylee Towers, daughter of Neil Towers, Local 2903-Lacey. Makenna Berg, daughter of Steven Berg, Local 3628-Yelm. $500 scholarships are awarded to: Christian Broschat, son of Keven Broschat, Local 828-Longview. Nicholas Stevens, son of Daniel Stevens, Local 1264-Anchorage. Aspen Crystal, daughter of Travis Crystal, Local I-83 of Idaho National Labs. Congrats to all winners and good luck to all the applicants!
Fill The Boot 2015
05/01/15 - IAFF Local 2819
It's that time of the year again and we're gearing up for a strong start and record finish. This year's MDA Fill the Boot Drive will have six different dates at four locations to ensure you have an opportunity to do your part. We've improved the scheduling, T-shirt shortage problems, and upgraded the equipment.
Minnesota Day Of Giving
05/01/15 - IAFF Local 21
May 5th is Minnesota Statewide Day Of Giving.  If your looking for an organization to support consider Saint Paul Firefighters partnership with Operation Warm to provide brand new, American-Made coats to local children in need. For more info or to donate click on picture above.
2015 Pension Party
05/01/15 - McKeesport Firefighters
The 2015 Pension Party will be held on Wednesday, May 27th at the Elbow Room on West 5th Ave. Start time is 630pm, dinner at 7pm. All current and past members are welcome to attend.
Executive Board Vacancy for Sgt. At Arms
05/01/15 - Albuquerque Area Fire Fighters
May 1, 2015 - The IAFF Local 244 Executive Board is accepting letters of interest for the position of Sergeant At Arms for the next 14 calendar days. The Executive Board will appoint a member to serve on the board in accordance with the IAFF Local 244 Constitution & Bylaws, Article VI, Section 5.
UNION MEETING REMINDER
05/01/15 - Cambridge Fire Fighters
Tickets for the Summer Picnic are available now
05/01/15 - Denver Firefighters Local 858
Good morning all members, friends, family, co-workers, etc. Tickets are in for the 858 Summer Picnic to be held Saturday June 13th, and did I mention they are FREE!!!! Tickets can be picked up[ from the union hall through Dena, Jay Burkhalter Engine 11 A shift, or District VP's will have them soon.
Happy Retirement
05/01/15 - IAFF local 2464
The Walpole Permanent Firefighters would like to thank Firefighter John Cerqua for his 28 years of dedicated service to the town of Walpole.
Xaviers Senior Class Project 4/30/15
04/30/15 - New London Fire Fighters
 Xavier Jones, the New London High School Intern that has been riding along learning our profession, was able to present what he has learned to his classmates today. With the upcoming high school proms, Xavier stressed to his classmates what can happen if you drink and drive. Below are some pictures from the parking lot of New London High School. Photos by Alan Rheaume.
Local 1826 Principal Officer Election Results
04/30/15 - IAFF 1826
Congratulations to Missy Middleton elected as Secretary, and William Simpson re-elected as Field Representative. Thanks for 8 years of service as our Secretary to Matt Galewski.
John P. Redmond Symposium/ Dominick F. Barbera EMS Conference
04/30/15 - IAFF Local F283
Brothers and Sisters, We have worked with management to created a unique opportunity for our members to attend the John P. Redmond Symposium/ Dominick F. Barbera EMS Conference.  This is the IAFF's Health and Safety and EMS conferences.  We are looking for a volunteer to attend this year's events in Maryland, the week of August 24-28.
Charity Hockey Game
04/30/15 - IAFF Local 801
DFD Ice Hockey vs Ridgefield DFD Charity Hockey Game Saturday May 2, 2015 at The Winter Garden Arena, 111 Prospect Ridge Ridgefield. Puck Drops at 1:00pm Come out and cheeer on DFD for a good cause.
Jim "Baby Doll" Dahl
04/30/15 - Albuquerque Area Fire Fighters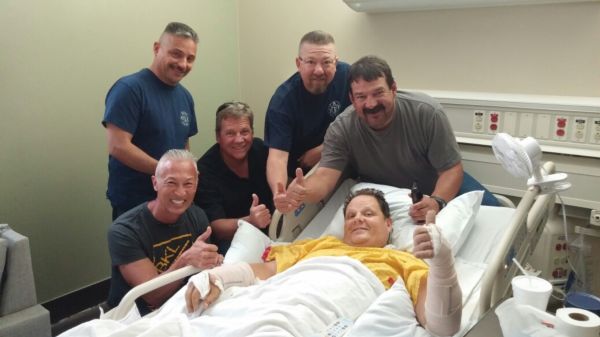 Message from AFDRA President Sam Trujillo: Our Brother AFD Retiree James " Baby Doll" Dahl is still at a Lubbock Texas Hospital and plans are to move him to a rehab nursing facility here in Albuquerque as soon as possible ... James is bed ridden and will require extensive rehab care to include additional surgeries .
Charity Golf Tournament for Blaine, Verandah Golf Course, June 27th, 2015 at 8:30am Shotgun start
04/30/15 - IAFF 1826
To all Local 1826 Members, Please see attachments containing the following: 1. Event information. 2. Team sign up sheet. 3. How to donate a raffle item. 4. How to a sponsor.
Local 2088 Member Mike McCoy LODD
04/30/15 - IAFF Local 452
Local 2088 Member Mike McCoy LODD Captain McCoy started his career as a volunteer with King County Fire Districts 1 and 18 at 16 years old. He joined KCFD 26 in 1982 as a resident volunteer. In 1986 he was hired as a paid firefighter for KCFD 1. He joined the Tukwila Fire Department in 1987 when KCFD 1 was annexed into the City of Tukwila.
1st Annual John Brandeburg Memorial Golf Tournament
04/30/15 - IAFF local 2957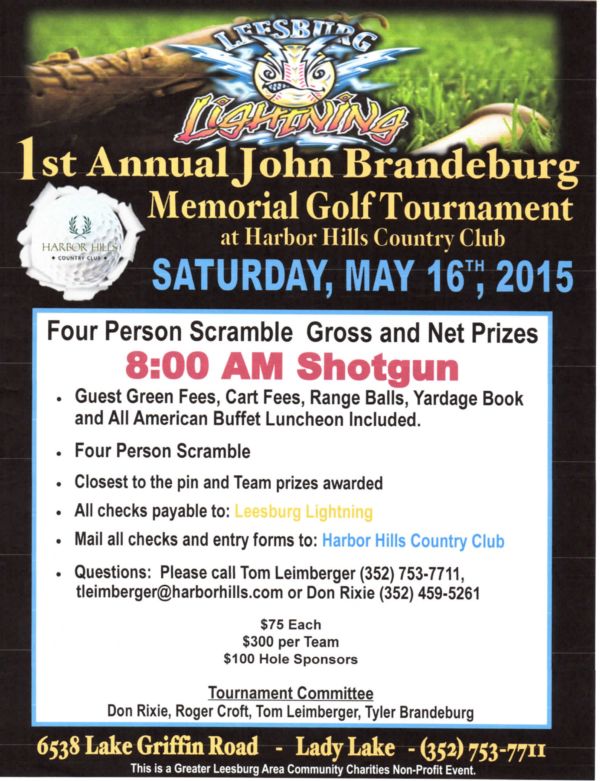 https://www.facebook.
Facade of Livonia building collapses
04/29/15 - IAFF Local 1164
video platformvideo managementvideo solutionsvideo player LIVONIA, Mich. - Business has been halted for a handful of stores in a Livonia strip mall after the façade of the building collapsed Wednesday afternoon.
Go Fund Me link for a Local 2655 member's step son
04/29/15 - Pennsylvania Professional Fire Fighters Association
I'm Mark Boncal a Captain with Nanticoke City Fire Dept. Local 2655. At this time my stepson, Brian Dougherty is awaiting a heart transplant at UPMC In Pittsburgh. He is currently home however arrangements are being made with Federal Air Ambulance in the event an organ becomes available. They will come to our local airport and pick him up and fly him to UPMC in Pittsburgh.
Upcoming General Membership Meetings
04/29/15 - Detroit Fire Fighters Association
In observance of the Memorial Day Holiday, the May 2015 General Membership Meetings will be held: Tuesday, May 26, 2014 & Wednesday, May 27, 2015 7:00 p.m.
JOBS: Birmingham Firefighter/AEMT
04/29/15 - Michigan Professional Fire Fighters Union
The City of Birmingham, MI (EOE) is seeking qualified candidates for the position of Firefighter/AEMT. Duties include fire suppression, emergency medical care, maintaining equipment, apparatus and buildings; participating in daily drills, protecting life and property; performing fire inspection duties & miscellaneous duties as assigned.
COACHES WANTED
04/29/15 - Cambridge Fire Fighters
The Cambridge Youth Flag Football League is seeking coaches for their 2nd season of flag football in Cambridge!  The program is in partnership with NFL Play 60 for children 5-12 years old. Coaches are required to complete the following: - CORI check - CDC Concussion training - NFL Play 60 FlagTraining The season is from 9/7-11/7.
Headlines Provided By:
Profirefighter.com - IAFF Website Design, IAFF Website Hosting, 100% Union Made in the USA.
GrievTrac.com - Online Grievance Tracking Software, 100% Union Made in the USA.
UnionActive.com - Website Content Management System with Powerful Communication Tools for Union Website's, 100% Union Made in the USA.
IAFFLocals.com - Complete list of IAFF locals and websites plus featured content from IAFF locals around the US and Canada.
IAFFWebsiteDesign.com - IAFF Web Design, Specifically for IAFF Local Website's, 100% Union Made in the USA.